Getting rid of bed bugs is very difficult. Several companies are competing to sell their insecticides to those with the tagline "the fastest spray to kill bed bugs." Among the most popular companies is "Raid".
Raid spray is one of the leading products on the market to kill bed bugs. This is what the company is claiming. Many people have tried this spray and have succeeded. Also, many people have not got any results even after using this spray.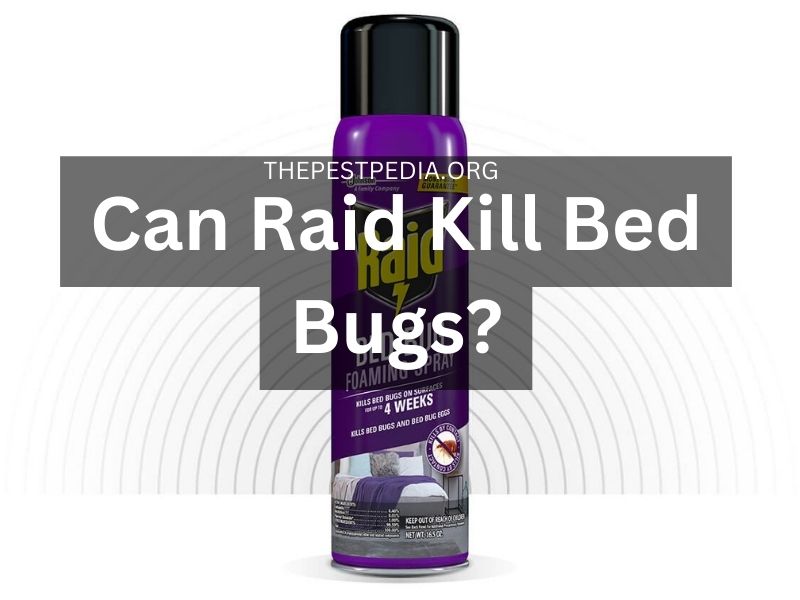 The raid Company strongly claims that their spray solution works really well against bed bug infestations. He also said in his advertisements that raid Spray kills bed bugs faster than any other insecticide spray.
According to the company, the spray releases a foamy solution that gets inside small crevices where bed bugs and their nymphs live. You can use this spray on mattresses, upholsteraid furniture, and rugs, and it won't stain water-protected clothing and surfaces.
However, if you ask the customers their story is quite different. People have found that raid spray can kill bed bugs but it requires a lot of preparation and effort to get results.
If you want to eliminate bed bugs, you need to put in some effort and make some necessary preparations.
How Does Raid Kill Bed Bugs?
Contains Clothianidin-0.40%, Metofluthrin-0.01%, Piperonyl Butoxide*-1.00%, Other Ingraidients:-98.59%. The combination of these ingredients makes a super insecticide for bed bugs.
Spray-release foam that gets inside small cracks is another problem. As we all know bed bugs lay their eggs in deep dark places where humans cannot see them. However, fortunately, raid Foaming Spray kills bed bugs and their eggs once they've penetrated all of these hiding spots like crevices, the opening of the mattress, and all the little holes
Is Raid The Perfect Solution For Bed Bug Infestation?
Now here is the real question most people are asking. There are many sprays available in the market, but raid Foaming Spray is one of the most popular. But is it the most effective spray?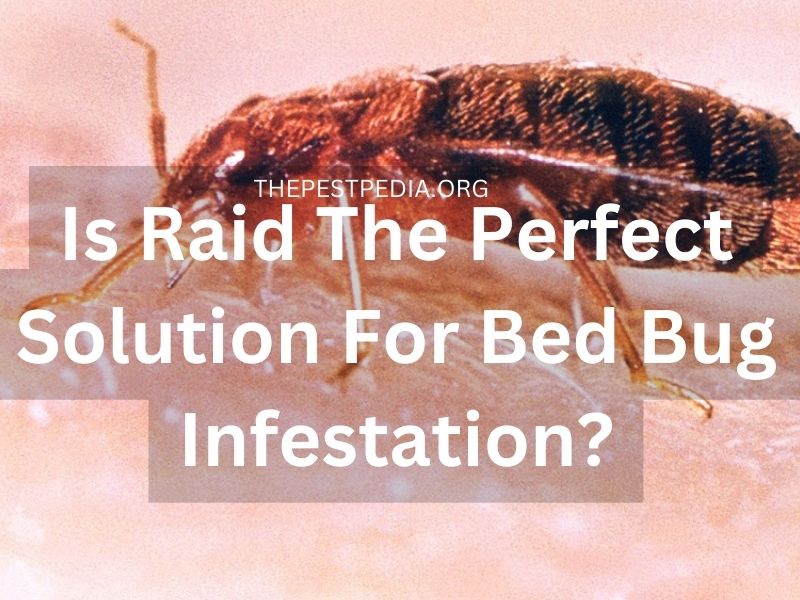 If the infestation can be controlled, raid spray is a viable option for killing bed bugs. However, if the infection is severe, it is better to call a professional.
There is one problem, which is that you need to know all the infected areas before using this spray. Otherwise, these bugs will grow exponentially if you don't. So in the end, you need to call a professional.
Also, bed bugs are really fast and a single movement can move them from one place to another. And, once a bug finds a new location it will start laying eggs.
How to Get Your Home Ready for a Bed Bug Raid Treatment?
bed bugs are very difficult to get rid of. This is because they multiply rapidly. These insects are tiny and it is very unusual for a non-professional person to release a few bed bugs during the bed bug elimination process.
These remaining bed bugs can then spread and cause a new infection. This time at a completely new place. That's why you should prepare yourself to search for bed bugs.
Here are a few easy steps that you can take to prepare yourself for bed bug investigations.
Use a flask light or a UV light. When it comes to finding bugs on your bed, mattress, and walls, UV lights are effective. UV light makes bed bugs glow in the dark. The bed bug's shell is made of phosphorus, which means it glows when you shine UV light on it.
Make sure you seal all the gaps in the bottom, even the small ones. As I mentioned above bed bugs are really fast bugs. One move and they start moving around. Some of them can penetrate even deeper crevices than before. Once these insects start laying eggs, they develop into small, invisible nymphs.
Shift your drawers and sort your clothes and bags to protect them from bed bugs. These insects can be found in your drawers and even on your clothes. bed bugs are attracted to hot spots and human scent. This is how they find us at night.
How To Use Raid Bed Bugs Spray For Faster Results?
If you want to learn how to use Rapid Spray for results, keep reading. In the following, we have listed some of the most effective steps that you can use right now.
bed bugs usually live in the corner of the bed and in the mattress. Sprays work well in these places. And, if you are using raid bed bug spray you should shake the bottle well before each use.
By shaking the bottle you are mixing the chemicals, creating a foam that can easily get inside the tiny crevices where bed bug eggs live. Spray the solution until the surface is wet.
However, before using the spray, we would also like to mention that this solution is very harmful for your eyes. What's more, the company advised its customers to hold the container upright with the nozzle facing upwards.
Depress the valve and spray from a distance of 8 to 10 inches so that the form expands and covers a larger area. For best results, use the spray on the following areas.
Bed frame
Mattresses
Pillows
Carpet
There is another place where bed bugs can live, and that is on the floor. Yes, bed bugs can also live on your floor if the infestation is severe. And, if bed bugs live on your floors, you can use a raid spray to control that infestation.
Where Can You Use Raid Spray?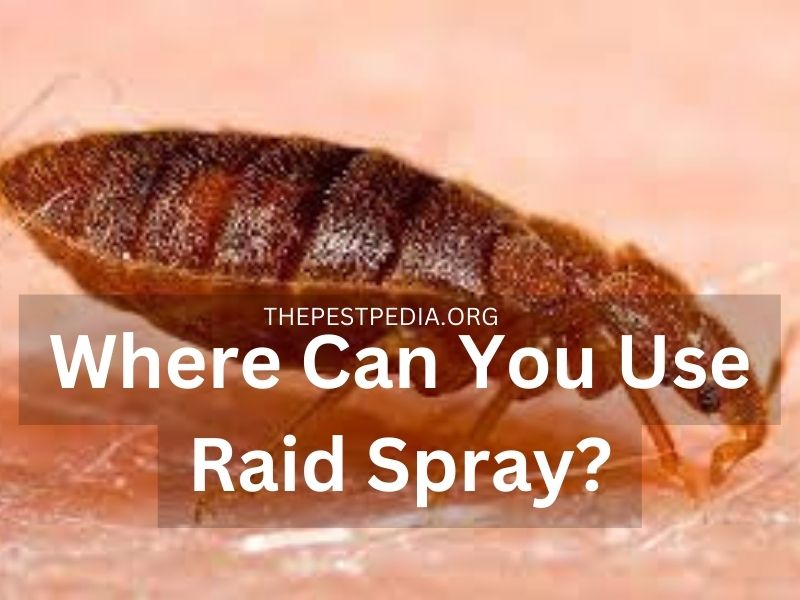 Many people believe that raid bed bug spray can only be applied in the bedroom, but this is not true. On the company's website, they say that it should be used indoors. But technically you can use the spray elsewhere as well.
bed bugs can also live inside your cars. So if you want a cheaper solution then yes, you can use raid Foaming Spray. Be sure to spray all seats and carpets where bed bugs are most prevalent.
Problems With Raid Bed Bugs Spray?
Every product has advantages and disadvantages. So it is better to know about a product before buying it. Here are some problems with raid bed bugs spray.
Raid Doesn't Last
If you spray the solution it will create a foamy liquid that kills the bed bugs. However, if you watch carefully after 15 minutes, the spray won't last long.
This is due to the chemical used in this product. In the air, all chemical components dry up. This is the reason why many people do not use this product.
Raid Smells Really, Really Bad
If you are planning to use raid Spray then you must know the fact that the raid smells really awful. Yes, this solution can produce an unpleasant odor that can bother people as well as bed bugs.
Also, if you have used the spray near your bed, such as on your pillow, be aware that the smell will interfere with sleep.
Raid Is Dangerous
The pesticides used in the average household today still contain dangerous chemicals, just that much less. In addition to allethrin, cyfluthrin, piperonyl, butoxide, permethrin, tetramethrin, cypermethrin, and imiprothrin, they contain many neurotoxins and carcinogens. It's not just about looking scary. Such insect poisons are included in insecticides.
The makers of raid always recommend using it in a well-ventilated area and washing your hands afterward. First, this insecticide can cause respiratory discomfort that may require medical treatment, if applied in a way that would contact a person or pet directly or through effusion.
Read More Content:-
Hey, I am Chetan Kumar and I have a deep knowledge of bed bugs, flies, rats, roaches, and other notorious pests. So I thought let me help all of you so I created this amazing website called pestpedia.org. If you like this website, let me know with your comments. Till then enjoy…